01: Preparing for the voyage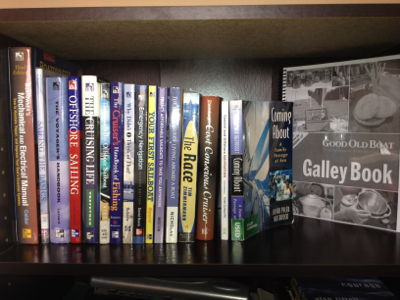 Our Sailing Library
Since we still live in beautiful but landlocked Colorado, books are our main way of fueling our dream.
Here is the list of the books we've read so far:
Boatowner's Mechanical and Electrical Manual – Nigel Calder
The Cruiser's Handbook of Fishing – Scott and Wendy Bannerot
The Voyoger's Handbook – Beth A. Leonard
The Cruising Life – Jim Trefenthen
The Cost Conscious Cruiser – Lin and Larry Pardey
Offshore Sailing – Bill Seifert with Daniel Spurr
Sailing the Basics, the book that launched thousands – Dave Franzel
The Seaworthy Offshore Sailboat – John Vigor
Coastal and Offshore Navigation – Tom Cunliffe
Twenty Affordable Sailboats to take you Anywhere – Gregg Nestor
Your First Sailboat – Daniel Spurr
Emergency Navigation – David Burch
Why didn't I think of that – John and Susan Roberts
The Essentials of Living aboard a Boat – Mark Nicholas
Coming About, a Family Passage at Sea – Susan Tyler Hitchcock
The Race – Tim Zimmermann
Galley Book – by Good Old Boat Magazine
We also subscribed to Good Old Boat magazine and we are members of Seven Seas Cruising Association.
We've subscribed to the www.waterwayguide.com newsletter since there is a good chance we'll navigate the Intracoastal waterway.
We have also downloaded videos from www.thesailingchannel.tv
And of course searching for sailing videos on youtube has provided us with many hours of entertainment.