05: Cruising: Bahamas
Don't Hit The Moon
Passage Weather: winds from N/NE 5-10 knots, waves 1-2 feet
Pocket Grib: winds 5-10, waves 1-2 feet
NOAA: winds 5 knots from N, waves 2 feet
Chris Parker: Go for it
Our weather apps, the government, and even the cruiser's weather god himself, Chris Parker, have given their blessing for the next day's crossing of the Gulf Stream. Even though the wind is from the North (we were told never to cross with a north wind), it's so mellow that it's a non-issue. We plan to leave with friends Steve & Kelly (s/v Slow Flight) and Dave & Nikki (s/v Surely Boo) early the next morning. We are AMPED. We fill up on diesel, gas, and water, double check our boat documentation, passports and cash; we make final phone calls home, set the alarm for 6:20am, and try to get some sleep.
The morning of the crossing we eagerly listen in to Chris Parker's 6:30 Bahamas weather forecast on the SSB (single-sideband radio; it's like HAM radio but different frequencies). Weather is still holding and looking good, so we pull up anchor and head out with Slow Flight and Surely Boo into the Big Bad Gulf Stream.
The Big Bad Gulf Stream: neither big nor bad – discuss.
Well it wasn't big or bad today, anyways.
We glide across the cobalt blue; friends leading, friends following, waves mellow, wind soft, sun bright. Forty-seven nautical miles later, around three-thirty in the afternoon, we cross on to the Great Bahama Bank going from water as deep as 2,800 feet to water only 15 feet deep and as aqua-clear as your over-chlorinated public swimming pool in July. It is unearthly and breathtaking. Stéphane and I keep taking turns going up to the bow and looking over the side, amazed at the transparency of the water and completely freaked out by how shallow it appears (we can't believe we haven't run aground yet as we're absolutely sure we're in only three feet of water).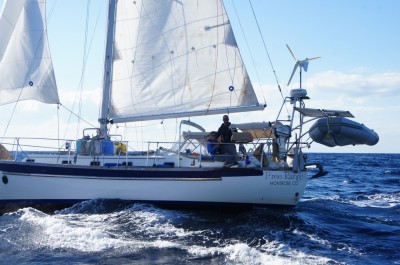 The wind dies but we continue to motor-sail along across the bank and into the dark. An uneventful, mellow night sail ensues. Stars abound, water remains calm and winds light.
At some point in the night, as we switch watches, Stéphane does one last check with binoculars- looking for any boat lights.
Stéphane: "Hey, what's that?!"
Me: "Don't know! Okay, let's just slow down so can figure out what to do- we don't want to hit it!"
It's really bright and orange and low and oddly-shaped.
Stéphane: "Oh, wait…it's the moon"
Me: "Well, let's not hit the moon!!!"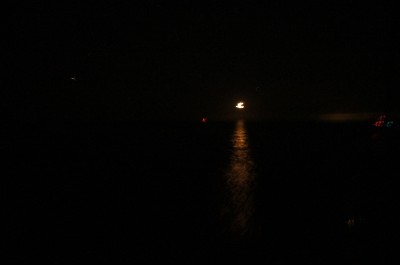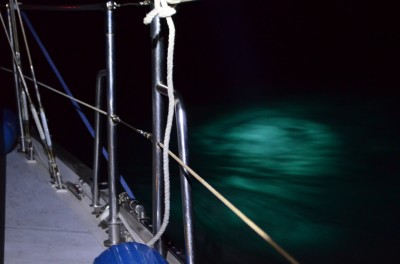 At around two in the morning we leave the Great Bahama Bank and cross to the Tongue of The Ocean, a body of water deeper than 9000 feet in parts! Incredible! The sun rises and we near our destination of Nassau. Before we can enter the Nassau harbor, we have to secure slips at a marina, which Stéphane is able to do. We then hail Nassau Harbor Control on VHF, request permission to enter after telling them which to marina we will be heading.
If your ducks are not in a row, Nassau Harbor Control says no (that should be their new slogan).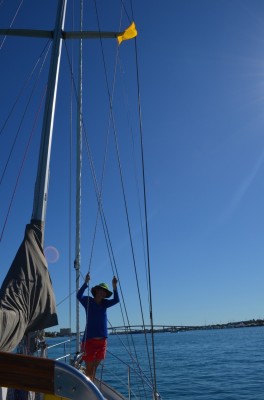 We tie up in between Surely Boo and Slow Flight at the Nassau Yacht Haven marina and give our friends congratulatory hugs- we made it!! We are all so excited.
POP!
And next thing I know we're drinking mimosas on Slow Flight, filling out customs paperwork and chatting with our customs officer, Mr. Roger Williams. Mr. Williams declined a mimosa but he did take a ginger ale once he came over to Free Range to check us in. Mr. Roger Williams is one cool Bahamian gentleman. He reviewed all of our forms, helped us with a few corrections, and welcomed us to the Bahamas.
I don't know if it is a saying of his own or if it's a Bahamian thing, but he said, on several occasions, "Now you're cookin' with gas". He needed to see an official form showing our coast guard documentation number and the boat name. I couldn't find one at first but was finally able to procure one and he smiled and said, "Now we're cookin' with gas!". So, it's like a "yeah!" but with +100 more character points.