05: Cruising: Bahamas
Da Race
Seventeen sailboats bob and weave in front of the start- an imaginary line between a yellow buoy on one end and the Race Committee boat on the other. The super-light, fast catamarans sail circles around the heavy, double-ender style boats like us; off our port side a stately wooden schooner glides along, looking crafty; at our six o'clock Dave and Nikki on Surely Boo are talking strategy and eyeing the competition; even the Lady Muriel, a Bahamian racing sloop, came out for the event.
On the Committee Boat, a white flag is raised – I start the timer on my watch: ten minutes and the race begins.
So…what's going on?
Well, Stéphane and I have decided to spend our first day of 2015 racing Free Range! Why? Because we went to bed at seven o'clock the night before, the race admission was free, and because a little competition sounds like fun.
Now, I have raced on sailboats before but I never paid enough attention to what was really going on – the strategy, the sail trim, the finer details that separate real racers from the rest. I wish I had asked more questions and soaked up the knowledge that Kevin, my old skipper, could have provided. But I didn't. So, Stéphane and I are figuring it out as we go.
But it's okay because we have devised a strategy we are sure will bring us success:
follow the other boats and don't hit anyone.
Our friends Surely Boo and Momo cross the line right as the gun goes off – a great start! It takes us eight more minutes to get to the start line – hmmmm, didn't time that so well but, whatever, we're staying true to the strategy: we have not hit any boats and we are following where the other boats are going. So far so good.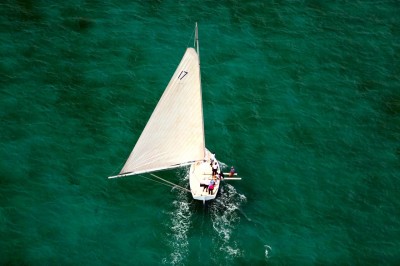 I steer and Stéphane works the sails – we are a great team! We get Free Range moving and we have a blast. What adds to the excitement of the race is that our friends Dave and Nikki on Surely Boo are absolutely crushing the competition! They are seasoned racers and they brought their game face on this New Year's Day.
Surely Boo finishes first! We cross the finish line 14th out of 17 with no boats hit (yes!). An excellent first (of many, hopefully?!) race on Free Range.
Later in the evening we enjoy a most excellent sit-down meal / awards ceremony.
Not a bad way to start the new year!