05: Cruising: Bahamas
Cut the Cord?
Snorkel over a coral reef or catch up on Facebook?
Beach volleyball or bury nose in Kindle?
Dinghy over to Surely Boo to play Texas Hold 'Em or watch a movie?
Hunt for lobster or write an eeeeeep blog entry?
You'd think we'd choose the former every time, right? It amazes me that we are doing what we are doing, where we are doing it and yet we are still so plugged in.
Our first act every morning is plugging in:
flip the switch on the SSB and listen to Chris Parker, Caribbean weather god, from 6:30-7:00am.
Take a break for an hour then power up the good old VHF and standby on channel 72 for "The George Town Cruiser's Net", moderated by Sue who always starts the meeting with "are there any emergencies or priority announcements?". This is then followed by general announcements, a listing of the day's events, and ending with an opportunity for people to "Buy, Sell, or Trade" any items they have on their boat (Stéphane just announced our old auto-pilot, Mark v1, available for purchase this morning).
So by 8:30 in the morning, before most people finish their second cup of coffee, we've already been plugged in, in one form or another, for at least an hour.
This morning we were treated to crêpes and mimosas on friends' Lucy and Michael's spectacular catamaran, Pan Dai. As quickly as the plates and cutlery cleared from the table, the laptops and external hard drives appeared from various dry bags.
Sara: "Hey Steve, I hear you have 13,000+ kindle books – can I download those?"
Michael: "Oh, I have a great music collection if you want to hook up to my MyBook and copy over what you want"
Bill: "I"ve got over 100 movies on my hard drive here, if anyone wants to grab copies"
David: "I've got some movies too"
Stéphane "Hey Michael, can I get your pictures from last week?"
etc. etc. You get the picture.
Our currency is bits and bytes and we share them eagerly and collect them hungrily. Bill's old movie collection becomes Dave & Nikki's new bad-weather entertainment for the next six months; Steve's 13,000 kindle books = Sara struck GOLD and Stéphane might not see her for a while (I'll try to be good).
Even out here, where the Bahamian ladies weave hats out of palm fronds and trash is collected by Rodney on his slow moving skiff Mondays-Wednesdays-Fridays, we are plugged in and connected to people and data in so many different ways and platforms.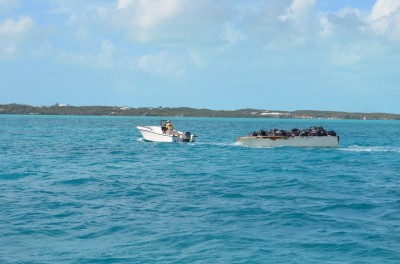 We swim and we hike and we volleyball and we socialize. But we also blog and we Facebook and we Kindle; we brought the extension cord all the way from Colorado, all the way to George Town Bahamas…time to cut it?
Nah, I like writing these eeeeeeps too much 🙂