06: Cruising: The Caribbean
Los Haitises National Park
We've swum in the infinity pools (both).
We've checked e-mail.
We've poked around Samana.
We've had pizza at the marina restaurant three nights in a row (good but not Colorado Boy good).
And we keep waiting for our weather window to Puerto Rico.
And we get antsy.
So…
Time to go to Los Hiatises National Park! Just a short ten mile sail across the bay.
Los Hiatuses is the closest we will get to the South Pacific without actually going there:
Dense, green jungle blankets steep mountains that rise, vertical, from the water.
Vines dangle in front of white cliffs.
Wee islands, miniature versions of their mainland parents, are sprinkled about the bay, housing pelicans, egrets.
We drop anchor at the base of one of the many jungle-encrusted cliff faces and Steve rafts up to us.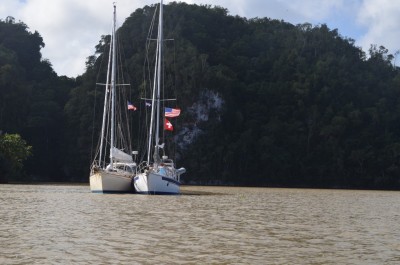 On our dinghy exploration, we follow a mangrove stream up to a…farm? Horses stroll about, munching grass; there's giant roosters, chickens, and guineas (?). We've been told there's an "eco lodge / restaurant" back here so we dock the dinghy and start walking.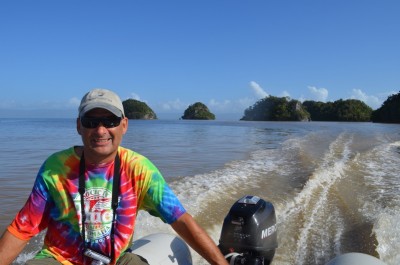 Lo and Behold, a quarter mile down the dirt path, we come across said "eco lodge". And out in the middle of seemingly nowhere? There's gringos of every kind! There's French gringos, American gringos, Red gringos, Blue gringos; There's gringos with stars on their bellies and gringos with naught. Look at all the gringos!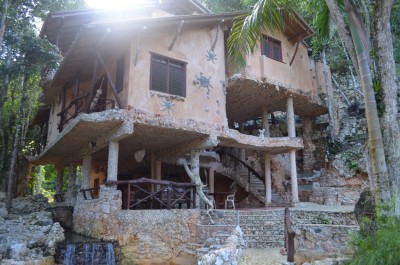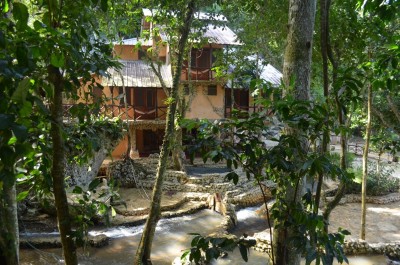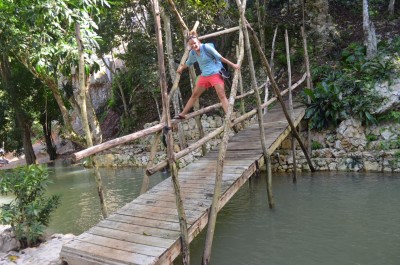 It's buffet time at the eco lodge so the boys partake and we split some grande Presidents.
This is so random.
Later that evening, after we make it back to our anchorage, we enjoy a boat meal (which are exponentially healthier than the marina pizza we've been inhaling lately) – grill up some mahi and wahoo that Steve caught; quinoa, couscous and some tinto vino (red wine en Espagnol) round out the meal.
The next day, more dinghy exploration: caves, and more jungle scenery followed by an excellent sail back to our Samana marina, Puerto Bahia.
Where we wait.