06: Cruising: The Caribbean
Crossing Mona
After a week of waiting, our patience is rewarded with a weather window that will allow us to safely cross the Mona Passage to Puerto Rico. We check out with immigrations, check out with the navy (who board our ship and bring the DR-equivalent of the DEA). We give them twenty dollars and the remaining cold beverages left in our fridge: one tonic water, one ginger beer, and one Bohemia (regular beer). In return, they give us our check-out paperwork – we are free to leave the DR.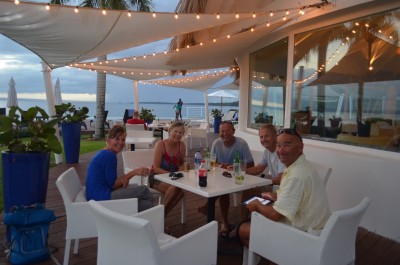 We are up and out of the marina by seven o'clock Friday morning, traveling with a (bunch? flock? pride? school?) number of other boats – there are six of us in total. The Free Range – Adastra – Slow Flight gang along with new friends: Mark on Osprey, Penney & George on Star Shot and Nancy, Ron and Wayne on Mandala.
The first six hours of the trip we are searching for whales! We have heard that this is the place to see them.
I spend a few hours on the bow of the boat scanning with the binoculars for our special whale-friends. I see a few water spouts in the distance, flashes of black whale-body here and there, but nothing definitive and nothing close.
We arrive in Puero Real, Puerto Rico around ten o'clock in the morning on Saturday. Our crossing took about 27 hours and we motored the whole way. We'd have loved a little more wind but what can you do?