06: Cruising: The Caribbean
St. Croix
We're currently in Christiansted, St. Croix. This place is neat! There's a boardwalk all along the water with wooden siding (instead of concrete – much nicer for the boat) and pylons all along. We anchored out in the harbor last night but brought Free Range up to the boardwalk this morning to show her off to a few potential buyers.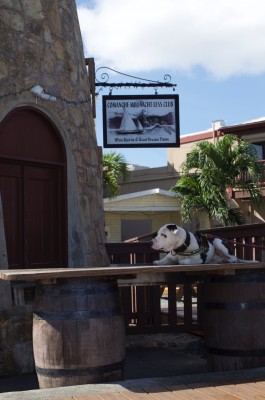 A guy rides up on his bike and strikes up a conversation. He's a live aboard (this means he lives on his boat – it's his only home) and his boat is out in the mooring field in front of the boardwalk. He's SURE our boat is DEFINITELY wider than his. We say, "She's 11 feet 8 inches." "NO WAY!" He says, "She looks so much wider than that!"
Later he rolls back and offers his father's mooring ball to us for the night. (I think I've explained this before but mooring balls are anchored to the sea floor. You attach a rope to your boat and then to the mooring ball and you are "anchored". This saves you from having to anchor the boat). Anyways, what a nice man! All of the St. Croix-ians we've met in our short time here have been very friendly, open, and kind.