11: Becoming Mainers
Hurd House
Home #2 in Maine we are calling Hurd House (because it's on Hurd Point Road).
And we are all moved in.
The effort involved was about 75% cleaning to 25% moving stuff in (because the house was really dirty and, thank goodness, we are still keeping the "stuff" to a minimum so there wasn't too much to move in).
Hurd House has got a few things going for it:
It's up on a hill OUT OF THE TREES! We get an amazing amount of natural sunlight. It's fabulous.
It's still on Phillips Lake.
It's got a wild, fun yard filled with rose bushes, random plants, grape vines, fruit trees, a firepit, and several garden beds.
The neighborhood seems nice and friendly so far. It is quiet at night and the fireflies come out to play once the sun goes away.
Cell reception – we are out of the Dead Zone that is 6 Potters Drive. Literally every time I made or received a call at Potter's, it was a 100% given that the call would be dropped at some point. Even with all of the man hours Stephane put in to trying to fix it – microcell, countless hours on the phone with AT&T, trouble-shooting – it never worked as it should. At Hurd House, the bars on the phone are many.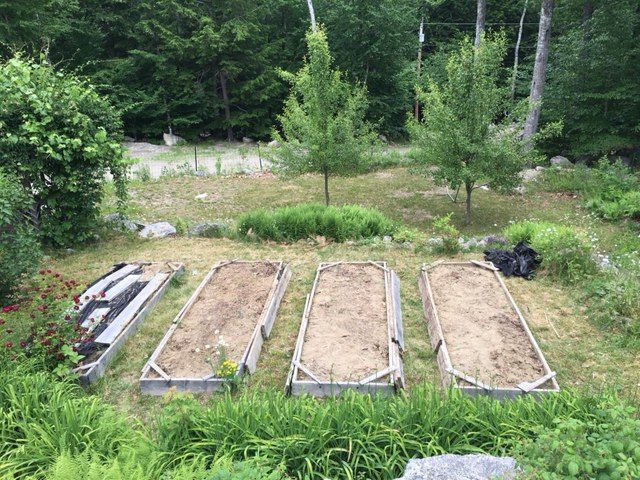 The only thing that Hurd House does not have going for it is its steep driveway (which wouldn't be necessary if it wasn't sitting on a hill, which we love so…catch-22, there you go). This will prove treacherous in the winter AND may cause issues if the oil company cannot make it up the incline to deliver our heating oil. And it will be pricey to keep plowed if we get a lot of snow.
The winter is definitely going to be interesting…
Here's to Hurd House! May we be able to stay here until the time is right to head back West.