03: The Refit
Boat Boot Camp – Week #2
More projects this week…
Chainplates
We had Mark from SailCraft (local boatyard) come out to assess the chainplates. The chainplates themselves look good and so we are good to go to move forward with re-sealing them. Stephane did that today (took all day, but it's DONE which means NO MORE LEAKING in our boat (at least no more leaking from the chainplates)).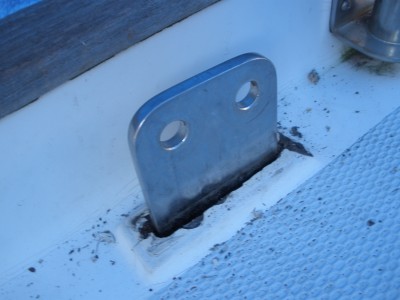 Bottom Paint
Bottom paint has chemicals in it that release slowly over time and help to keep critters/algae from growing on the hull. Because the paint sloughs off over time, you have to add coats when you have your boat out of the water. Her original bottom paint was red and we were planning on adding more red to her, but we got a nice deal on some black bottom paint that we could not refuse (this stuff is expensive, like $270 a gallon) . So, we painted her black! I like her new look- she's more aggressive now. Two coats so far, one more to go.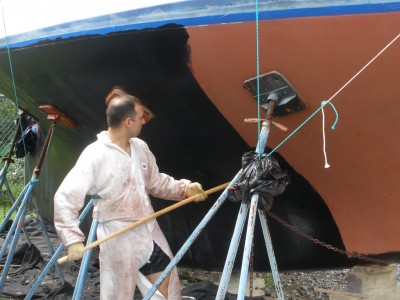 Batteries
We ordered two 8D 12v marine batteries – these will be our battery bank and give us 500 amp hours daily. These suckers weigh 180 pounds so we had to be very careful with how we got them on board.
Bottom Paint for Propeller
The propeller needs love too – a little sanding to remove the crustacean funk, a little acetone to clean, and then a primer. So, this is crazy to me, all these chemicals! In this case, you paint on the primer (which is a primer + another goo that activates the primer). The primer makes it so that you can add another coat of goo. This second coat of goo makes it so that you can put paint (the final coat) on metal. So many steps! So many chemicals…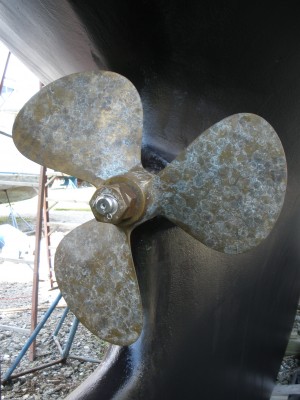 More cleaning…