03: The Refit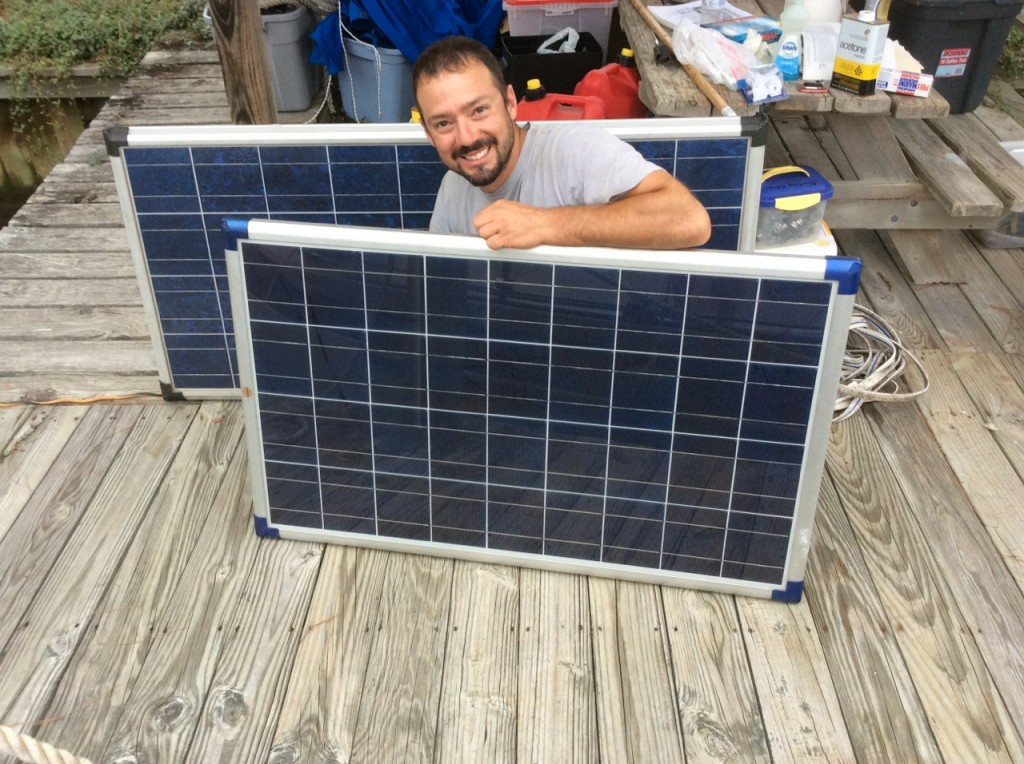 Mini Projects
As the larger projects have mostly been completed, we've been taking on smaller projects  
Slocum 37 placard
I'm not super stoked about how this one turned out- I think I should have left the cool, old, patina. I spent a lot of time trying to clean the patina off to get down to what I thought was brass. After many hours of chemical treatments and rubbing, I was not much further than when I began. Mark grabbed one of the placards and had one of the guys at the yard put it on the polishing wheel – we discovered it was not bronze, but rather some metal coated with a bronze finish. So, I cleaned them up and just spray-painted…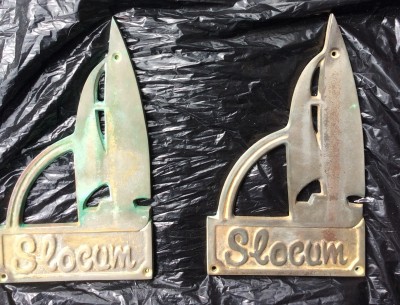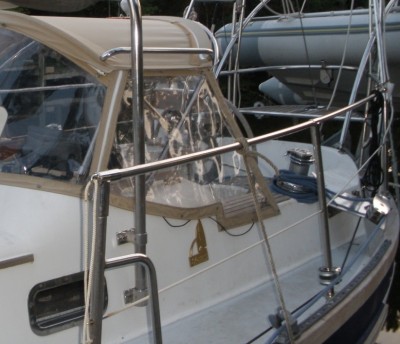 Solar Panels
Stephane measured the old solar panel mount, bought four pieces of aluminum and had Dan The Welder create a nice platform on which Stephane mounted the solar panels. We now have wind and solar power and will hopefully be self-sufficient, power-wise!
 Bathroom
The bathroom needed some more cleaning. We bought some hooks to hang towels in the shower, a shower curtain, and I cleaned the shower faucet with my new best friend, Bar Keeper's Friend. I'm telling you, this stuff will clean ANYTHING.
Ignition Switch
Hatch Covers
We have three hatches on our boat and all three were leaking a bit. We pulled them off, removed the rubber gaskets (this was tedious – we had to scrape little bits of the rubber off with a metal brush and razor blade where it was glued to the hatch cover) and then took them to Chris The Carpenter who put nice new gaskets on. Then Ed The Welder ran them over the polishing wheel and shined them all up!
Companionway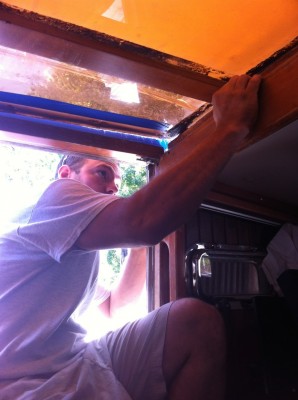 Name
We are getting our new name put on the boat tomorrow! So exciting! In preparation for that, we had to remove the old name and hailing port from both sides of the boat using an old health insurance card, my nails (why did I cut them the other day? Long nails would have SO come in handy for this project!!!), some rubbing compound, and paper towels.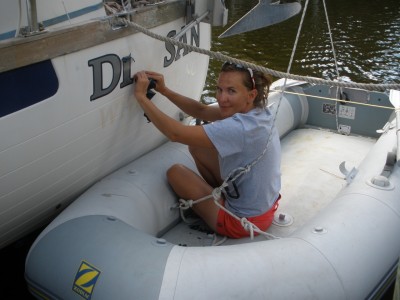 Final projects before we go:
1. We are getting a bimini made for the cockpit. This is basically a big umbrella that stretches over the cockpit and shades you from the sun.
2. New cooling unit for the refrigerator.
3. Insulating the backstay (so we can use the SSB).
We should be ready to head south mid-week next week!