This past week in Wrightsville Beach has been our first experience with how cruisers interact with each other. Here's how it works: you get in your dinghy and you motor over to your neighbor's sailboat and you call out or knock on the hull if they aren't outside. And then you're like, "Hey, neighbor! We're in that boat over there! Where are you headed?" (etc). Also, if you're headed in to shore, you can stop by your neighbors and see if they have any trash that you can take in for them.
We had a slightly different technique before learning this. What we were doing before this was buzzing by sailboats and if we saw someone in the cockpit we'd slow down and say something to the effect of: "your sailboat is beautiful!" (and though we really do think your sailboat is beautiful, what we really mean is: "we are new at this and we want to be your friend and pick your brain about all things sailing!"). Then we'd usually get invited in and get a tour of the boat and after some beers and chips, we've made new friends and shared sailing stories and boat cards. Here's our boat card, by the way: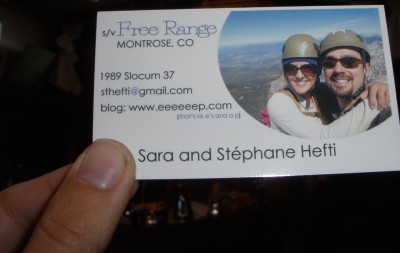 When you meet other cruisers, one of the first things you do is swap boat cards. A boat card is how cruisers remember other cruisers – it usually has a photo of your sailboat, the name of your boat, your names, contact info, blog, etc. Here are some of the boat cards of people we've met so far: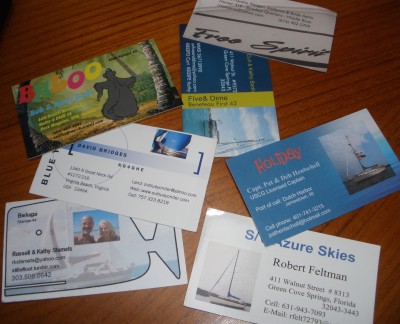 After seeing other boat cards, we realized that we need a good photo of Free Range so that on the next version of our card we can have a cool photo of our boat. So on Wednesday, we left our nice, cozy anchorage and headed out to the Atlantic for a photo session! We got the sails up and Stephane took off in the dinghy to snap some photos.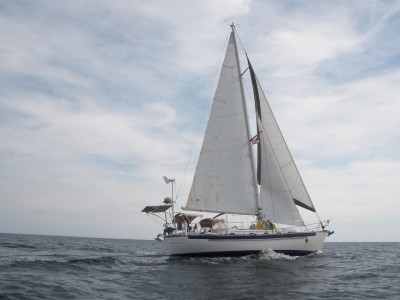 So we have made new friends – our "neighbors" in our Wrightsville Beach anchorage are fun and helpful and kind. Yesterday David & Karen from s/v Blue Yonder dropped off a few books for us to borrow while we are here – an Inlet Chartbook of SE US and a book on Atlantic crossing – we read through quite a bit of both books yesterday as the weather was windy and rainy yesterday so it was book time. Bob & Anne on s/v Baloo (from the Jungle Book!) stopped by for a tour of Free Range and a beer. Today we are going to dinghy over and check out Baloo, their Valiant 40.