After sailing most of the morning along the ICW, we motored the last ten minutes to Cumberland Island, GA and the most beautiful, peaceful anchorage yet.
This place, it's like a ghost story waiting to happen.
Live oaks, twisted and gnarled, shaggy in their Spanish moss, loom ominous over narrow tracts of sandy beach. Plenty of space to maneuver and drop anchor and it is so quiet and mellow. We dinghy ashore to discover that it is Veteran's Day (THANK YOU Daniel and Uncle Joe) and so free entrance to the island, which is a national park.
Stephane's already found a map so we head off down a leaf-strewn trail, oaks knitting their branches together to block out the sun overhead. Loud whinnies equal feral ponies – they are all over this island and they are not particularly interested in nor so much afraid of us – they just want to eat Spanish moss in peace, damnit all.
First stop – Ice Box Museum. See, the people who once played on this island were so wealthy that their refrigerator? It was a house. The ice? They shipped it down from the north, 300-pound blocks at a time, whatevs. They were the Carnegies – the steel barons from Pittsburgh. And Cumberland Island was their playground.
We walked the ruins of the burned Carnegie mansion and then the mini-mansion down the road that they built for daughter Sally. And then, wait, hold on, so- if Margaret gets a mansion, what about Edward and Johnny? Yep, they get one too (best not to play favorites). So there's mansions all over the island! And then, wait, you can't have mansions without servants, right? So you have to have a servants' house which housed like 300 servants because when you're that rich, only 300 servants will do, thankyouverymuch.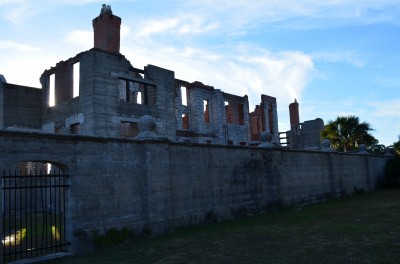 We scope the ruins, cemetery, and then walk out to the beach on the Atlantic. Someone much more creative than ourselves made a sand samurai ornamented with horseshoe crabs – super clever! We enjoy a romantic, sunset walk on the beach until we realize – oh shoot, it really IS sunset now and we have no idea how much further our exit back to the boat will be…
Not much further come to find out. We find our beach exit with just enough sunlight left to see three guys sitting on the side of the boardwalk. One asks us if we want to join them for Happy Hour… Ummmmm…have I EVER declined a Happy Hour beverage, stranger or not? Not about to go breaking that record!
We enjoyed IPAs, Sailor Jerry's, and a most excellent home-brewed Apple Jack in the company of Agent Brian, Geologist Jason, and Title-Detective Aaron. Happy Hour spilled over to dinner hour and bedtime hour but we so enjoyed ourselves. Strangers turn quickly to buddies.
Good times at Cumberland Island! This place is magical. Tomorrow, off to Florida…