05: Cruising: Bahamas
Pig Beach
When we first started getting serious about our sailing adventure, Stéphane showed me a video of a magical place with clear water, white sand beaches and PIGS swimming in the water! Giant pigs, baby pigs, spotted pigs, pink pigs – all running around on the beach or swimming out to your dinghy, squealing their little hearts out because they so badly want that moldy PB and J sandwich in your hand.
Oh, yes please please please PLEASE give me the moldy PBJ! I'll even eat the plastic sandwich bag its in if you'll let me!
Ever since that video, I have been really excited to swim with the piggies on Staniel Cay.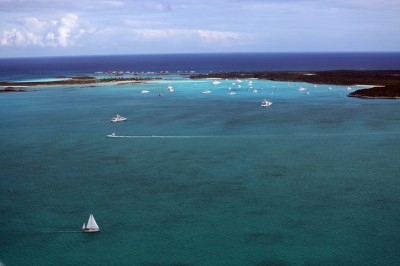 These Bahamian pigs live on an uninhabited island just across the way from the inhabited island of Staniel Cay. In between acts, they lounge on the beach in twos and threes, snouts burrowed in the sand, waiting for the next tourist-filled dinghy to land.
And here comes one now! And these are Germans – they give particularly good scraps away! Let's hurry up and see if we can get some! All we have to do is prance around on the beach, squeal, and get close enough to snatch up the food. Sometimes they make us work harder for it but if we have to, we'll swim out to the dinghies because food is hard to come by on this scrubby little island- so we'll take what we can get when we can get it.
There's one scrawny, white rooster who lives on the island with us. We're not really sure what he eats since he doesn't ever show up for the tourists. We hear him in the mornings and then he runs away into the interior of the island.
He's a loner.