05: Cruising: Bahamas
Norman's Cay
We left Allan's Cay on Saturday, headed for Norman's Cay – just a short fourteen nautical miles away. In the Exumas, the next beautiful island is only a short day's sail away. Plenty of wind made for a really fun sail. We raced Surely Boo but they left us in the dust.
So, the Exumas are a chain of islands in the Bahamas that stretch north-south. Many of them are uninhabited and all of them (at least the ones we've seen so far) are surrounded by varying hues of the most ridiculous shades of clear blue water you've ever seen; their beaches soft, white sand; their vegetation scrubby bushes, stubby palm trees, vines.
Each cay (pronounced "key", remember? I'm having a hard time with that too) has its own flavor. Allan's Cay's schtick was the iguanas. Norman's Cay, where we are now, has a sunken drug runner plane that you can snorkel about. The plane rests in only ten feet or so of water and houses schools of multi-color fish; its hull is almost completely covered with coral growths. It's quite eerie.
Wait…drug-runner plane? What? Norman's Cay used to be the home of this big drug lord back in the day (late seventies/early eighties)- complete with airstrip! Now it's just an island with a few vacation homes and a really cool restaurant, MacDuff's. We dinghied over to MacDuff's yesterday to check it out. They are open from 12-3 for lunch and 5-8 for dinner. If you want dinner, you must call in (they monitor VHF channel 16) and reserve your dinner! For $7 you can drink ONE beer. For $15 you can have a mixed drink. And for $25 (yes, $25 whole dollars) you can have a hamburger (cheese costs extra, don't you know! We in the Bahamas, man! Hamburgers don't grow on trees here like they do in The States!).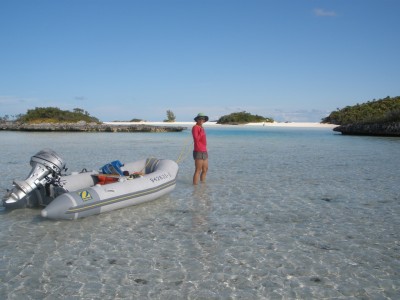 We are at a really nice anchorage with Surely Boo and have been having a great time with them exploring the island and playing games on each other's boats in the evenings. Dave and Nikki are bad-ass sailors/racers and they are going to take us out on Free Range today and show us some of what they know.