06: Cruising: The Caribbean
St. Thomas: Tourist Paradise
We've spent most of our time in quiet, sparsely-populated anchorages. Because we prefer it. So in St. Thomas, we thought it would be a fun change of pace to go where all the crowds go. So we went: The Inner Harbor.
Getting into the inner harbor was interesting – we had a giant cruise ship follow us in. Already anchored in the inner harbor were three other cruise ships! I couldn't believe they could fit so many of these floating cities in one place. Landing just on the other side of the harbor, a plane. No big deal – he doesn't need much room and there's no marked "runway" in the harbor – he finds the space he needs and goes for it. Amazing.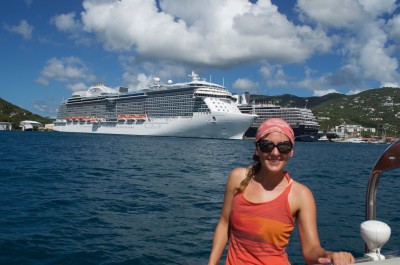 Every Wednesday afternoon, the little town of Charlotte Amalie is overrun from noon until five and then breathes a sigh of relief as the cruise ships exit the Inner Harbor off to the next scenic island / duty free shop.
Tourists pour forth from the Norwegian Cruise, Royal Caribbean, and Celebrity Cruise (are there actually celebrities on board or do you just feel like one with all the pampering?). Fairly easy to spot with pasty white skin and sporting the obligatory Hawaiian shirt and palm-frond hat, the cruise ship tourist prefers to spend his limited time in foreign countries surveying the selection of exotic booze at the duty free shop; he is often tempted into purchasing such goodies as chocolate diamonds (the newest trend-  your wife will LOVE them!) or a Breitling watch (Swiss; you know the Swiss make only the best watches).