09: The Great White Buffalo
We're Fixing a Slide…
So there's these things on RVs called "slides"- their purpose, to grant you more real estate when you're camped and less when you're driving. Some RVs have slides on both sides, some on just one side. Some RVs have one giant slide on one side, some have multiple, smaller slides.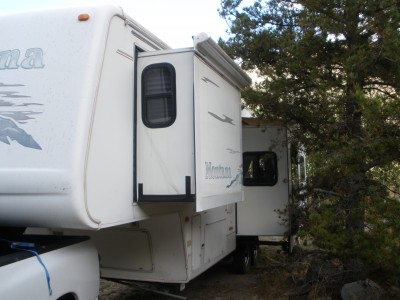 Taking its name from its function, a slide does just what you would expect it to (it slides). With the quick push of a button, your slide comes to life, pushing itself outward from the belly of your RV and increasing your footprint a good four feet or more (it doesn't seem like much but when you live in tight quarters, every little extra square foot matters. Like, a lot).
The slide's anatomy is pretty basic – within each sleeps a hydraulic piston, awakened by the press of a single button. You press "out", your piston pushes to extend your slide; "in", it will pull to retract it.
Slides are in integral part of our camping routine: find a camp spot, get into the camp spot (the hard part), level The Buffalo (because we're over sleeping at weird angles, thank you very much Free Range- kisses!), then pop out the slides.
Consider yourself prepped for the real story…
After driving all day to get to south central Montana, we pull into Columbus, Montana's lovely town park, Ich-Kep-Pe, to rest for the night. Camp spot achieved, Buffalo leveled, slides… BAM!
"What was that?"
That, my friends, is the sound of a slide coming apart; it seems our bedroom slide would neither extend nor retract after The Sound. A clean and efficient autopsy by Stéphane reveals the problem: the piston and its metal frame have detached from the wooden base, rendering it useless.
But why?
Because, it seems, try as we might, we simply cannot escape the damaging effects of water: rot follows us around like Myra does when we have treats in our pockets.
"Crap- how bad is it?"
After a more in-depth assessment, Stéphane's diagnosis is not as bad as I had first thought (flashes of us rebuilding entire sections of Free Range's settee): we just need to add a piece of wood to replace the rotted section, and then secure the metal frame back into the new piece of wood.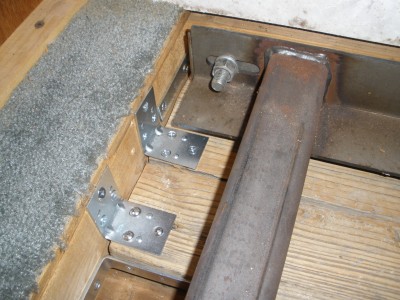 A generous slather of wood glue, a dash of screws, a pinch of bolts et voilà! Now We Cookin' With Gas, Man!