13. La Famille Hefti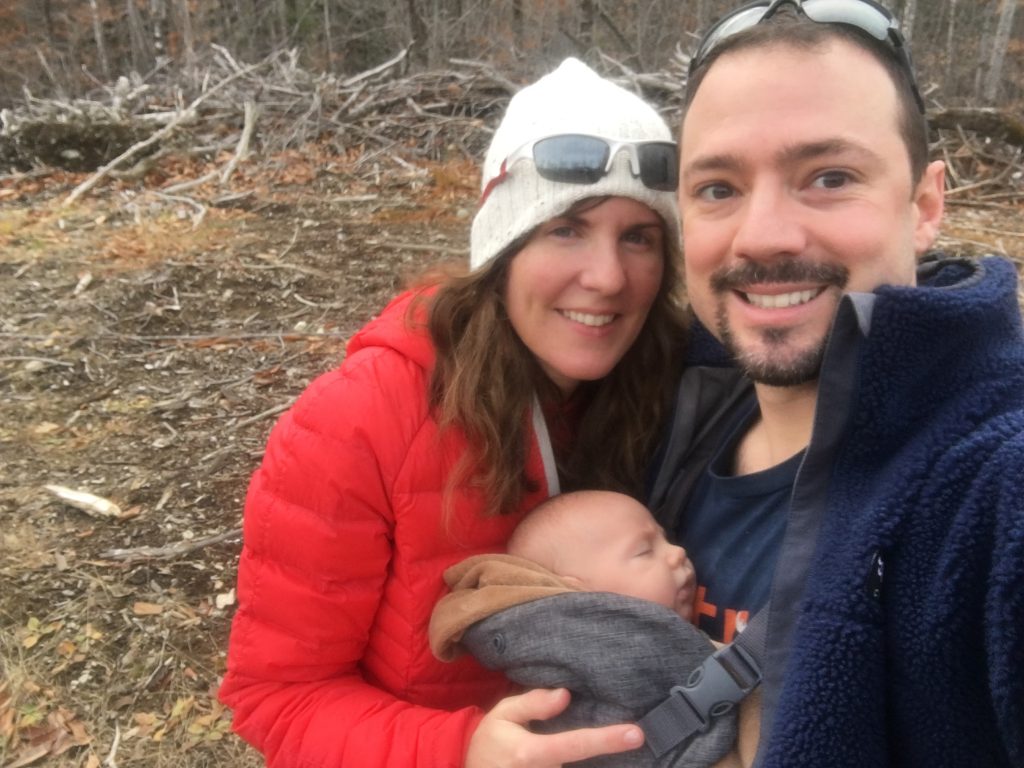 By the Numbers
Tomorrow Hugo will be two months old. I have no idea where these past sixty days have gone and what I have actually done during this time; they have zoomed by in slow motion. A friend of mine shared a "new mommy" saying that I find quite appropriate to our new life:
The days are long and the years are short.
The days are ridiculously long – particularly if Stéphane is on shift – but the weeks are just flying by. All day long I do nothing and everything, all at the same time. It is the most important nothing and everything I have ever done.
We celebrated Hugo's first Thanksgiving by going on a family hike / trespassing event. Bundling up The Little Bear in his warm, fleecy bear suit and telling Myra the magical words that make her life ("let's go for a run!"), we headed out the door and bush-wacked up the thickly-forested hill in our backyard. We quickly crossed into no-man's-land – not sure whose property we were on – but we didn't quite care: who gets mad at a couple hiking with a newborn on Thanksgiving? You'd have to be the biggest douche in the world, really.
Up and up the hill we went, determined to find a view that let us see over and beyond the thick curtain of trees. And we did eventually get a peep of our Phillips Lake from above – after which we came across a hunter's stand at which point we decided to evacuate the area.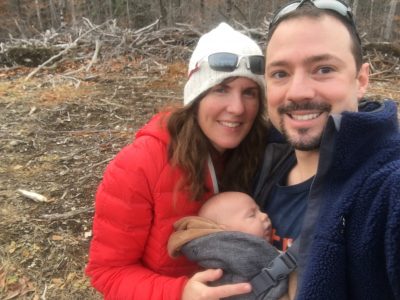 We are slowly collecting more "baby things". Try as I might to keep our belongings to a minimum, we keep increasing our inventory of "Hugo stuff". Each item does seem necessary though, like this newest addition: an Osprey (supporting our local Colorado businesses!) baby carrier (for extended hikes in the back-country). He's a little small for it yet but we could not resist the half-off sale at Cadillac Mountain Sports!
Returning to work has been challenging with a newborn in tow. It has taken Stéphane and I a month to figure out how I can best work and be a mommy. What I have learned, after many failed attempts, is that I cannot do both at the same time. Thank goodness for Stéphane's work schedule and for his willingness to be super dad so I can devote a little time to my business!
This just in: all those bibs that you received, washed, and stored away in the back of the dresser because you thought they were for when Hugo was older and eating messy things like seafood (think Joe's Crabshack)? Yeah, guess what? They are for when Hugo pukes up milk! Guess how many onesies have been changed due to milk puke? A lot. Guess I was out sick the day they went over that little gem. Yet another Mommy Memo missed.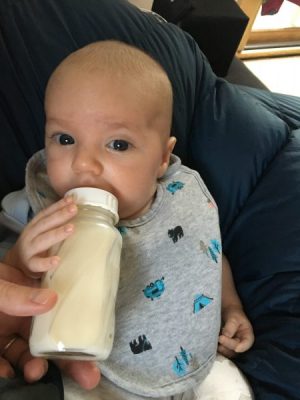 Okay, let's crunch some numbers:
1,609
The number of ounces of milk I have pumped to date. To put this into perspective, that's 64 bottles of wine, 12.5 gallons of water, or 201 cups of coffee. The Girls are hanging tough and performing admirably.
168
The number of hours I have sat hooked up to the pump so far.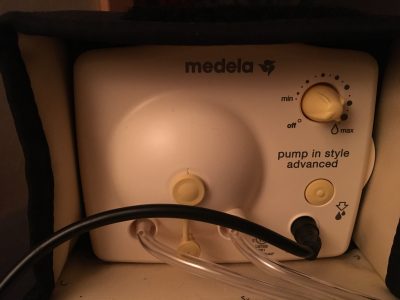 5
The most number of consecutive hours Hugo has slept in one night so far – go Hugo!!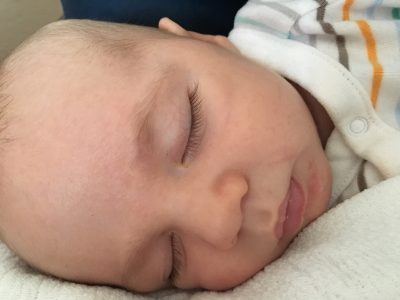 4
Most miles run post-Hugo.
6
Times I have been peed on while changing Hugo's diaper. I must have missed that Memo too. Have since learned a pee-protection technique that has been deployed successfully on the changing table.