03: The Refit
Splash & Step
Sunday, a few final projects: painting the boot stripe, lubing all the sea cocks and making sure they can open/close easily, loading all of our belongings from "the burrito" onto Free Range.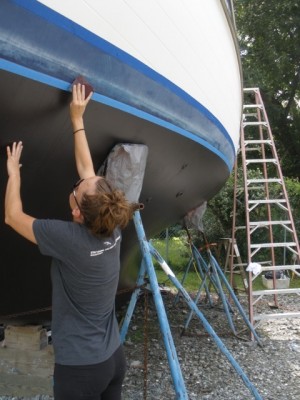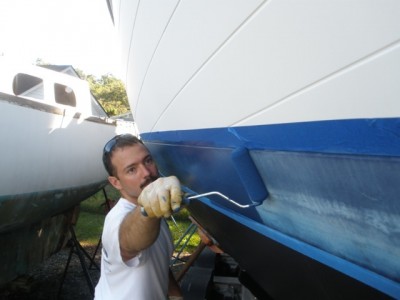 Monday we splashed Free Range (dropped her in the water!). Paul loaded her up on his giant truck and drove her over to Sailcraft Marina. Stephane stood in the cockpit with a white PVC pole to clear any wires that she might run into on along the way. I brought up the rear, taking video from The Rogue. The guys at Sailcraft put her on the travel lift (this giant machine with two straps that holds the boat up, moves it to the water, and then lowers her in.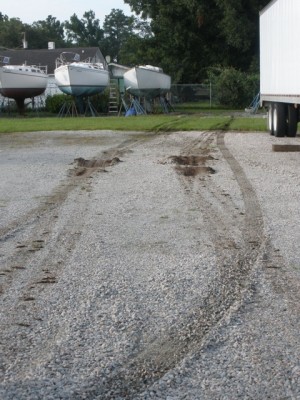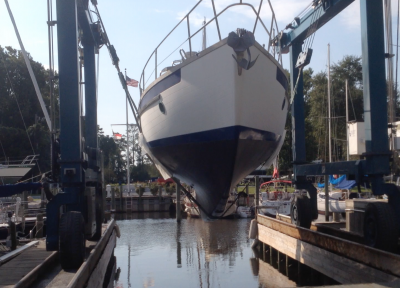 Once we got her in the water, it was Mast Time: we cleaned it with rubbing compound, waxed it, ran messenger lines through to set it up for new lines that we later purchased, and then went shopping for lines. Mark the rigger sent us to West Marine with a shopping list (120 feet of 7/16 white w/red fleck, 100 feet of 3/8 line w/green fleck, etc.). Then he showed us how to splice the lines (very impressive to us).
Today we stepped the mast (attached the mast to the sailboat). By "we", I mean the amazing and talented crew at Sailcraft Services. These guys are awesome. They each have their speciality (engines, riggers, painters, carpenters, etc.) and they are each so kind and helpful to us. They know we are total novices and are doing all they can to help us and to teach us as well. We are trying to be super sponges and soak it all in, but it is a lot!
On a side note…
Stephane is in his element: trouble-shooting, fixing, asking questions, connecting the dots, teaching me; up and working before the sun rises and still tinkering away after the sun has long since set; staying positive through IT ALL…I have always been so proud of him but the past two weeks I have discovered a whole new level of pride in and awe of my husband. He is, quite simply, the best.