05: Cruising: Bahamas
Island Hopping
After a busy, fun week in Staniel Cay topped off by a starter scare, we are ready to move along. Our merry band of two boats has expanded to four: Paul and Phyllis on s/v (that stands for "sailing vessel") Caper, Bill Roy on s/v Providence, our buddies David and Nikki on Surely Boo and us.
The four of us race to the next island along the Exumas (we literally race, which makes it more fun. Except Surely Boo are amazing racers and beat us every time. I think we're getting a little better though).
We drop anchor with 40 other boats in Black Point. This place is a good stop-over as it offers free trash disposal, free water, and cheap laundry.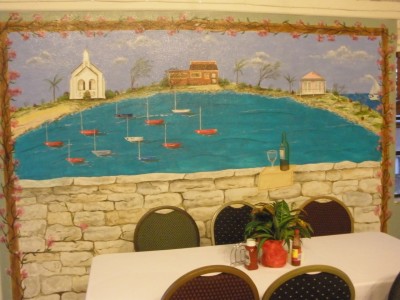 Next day and a new island: Little Farmer's Cay and a small, beach anchorage right in front of Ty's Sunset Bar & Grill. Stéphane and I explore a local cave before we meet the gang at Ty's. Over rum drinks and dinner, we plan our route for the next day's big journey to the place we've been talking about since the beginning of all of this: the cruiser's Mecca: George Town.