05: Cruising: Bahamas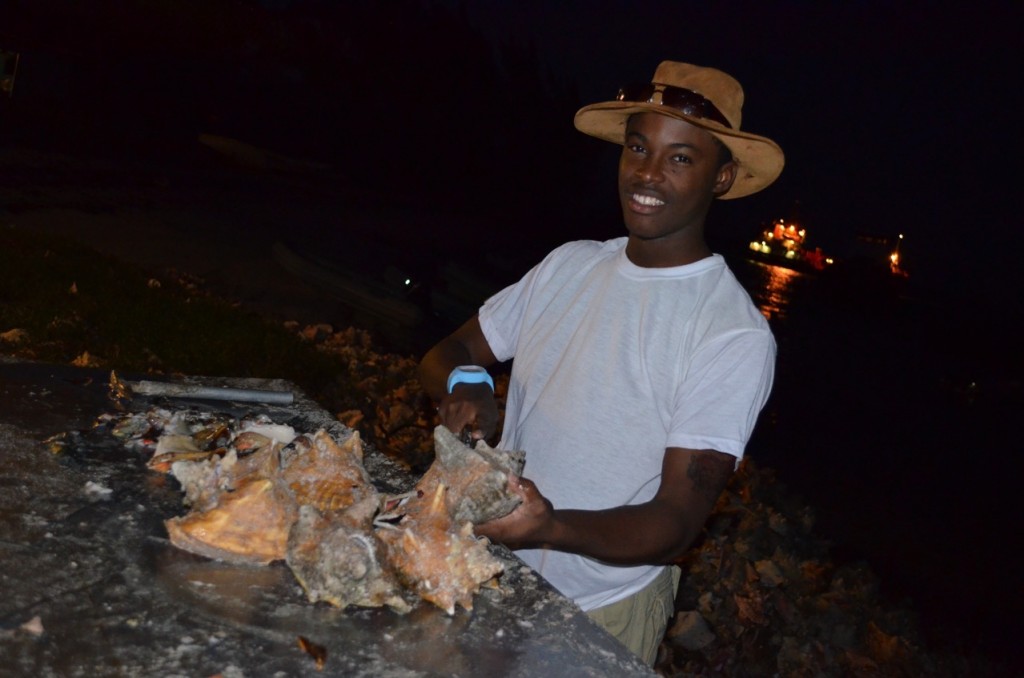 George Town
We have never seen so many boats – anchored so closely to each other to boot – in one place before. Sailing down the US East Coast and running into the other cruisers, when we asked where they were headed, 98% said the Bahamas. Asked where in the Bahamas, 95% told us they are going to George Town. Once there, a good 90% of them will drop anchor and not touch their sails again until hurricane season looms (May-June) and time to head home. That's a lot of boats and people piling up in one place, right?
There are different anchorages in George Town and depending on your personality and what you want to get out of your time, there's an anchorage out there for you.
Tend towards introvert? The more sparsely populated and quieter anchorages of Monument and Honeymoon Beaches are for you.
Are you a worry-wort? Pick up a mooring ball* in Hole #1, #2, or #3 and breathe easy. Because your anchor will probably hold in the 30+ knots of wind from that Norther rolling in tonight but a mooring ball will ensure your boat goes nowhere and you can actually get a good night's sleep without worrying about dragging anchor and crashing into your neighbor.
    *remember, a mooring ball is a floating ball attached to chain attached to a concrete weight on the sea floor. You tie your boat on to one of these in lieu of dropping your anchor.
Are you a social butterfly? Do you enjoy drinking beer and relaxing on picnic benches chatting with your fellow cruisers about how awesome your new Rocna anchor is and that one time in Trinidad…? Do you like to play volleyball and Mexican Train and don't mind paying $5.50 for a Kalik (Bahamian local beer)? Then you need to squeeze your sailboat into the Volleyball Beach anchorage: by far the most densely populated and most extroverted anchorage in George Town.
Are you a "kid boat"? Or do you just really like spending time on the beach? Then sail right on by Volleyball Beach: Do Not Pass Go and Do Not Collect $200 but DO drop your anchor at Sand Dollar Beach.
Any wagers on where we dropped anchor?
Hind-sight being what it is, my choice would have been Honeymoon Beach as we discovered a trailhead there that hooked into a network of runnable trails around the island. However, we ended up following Bill Roy and David & Nikki to Volleyball Beach. Which was perfectly awesome in its own right: we both enjoyed chatting up old salts, getting sweaty and sandy playing volleyball. We passed on the $5.50 Kaliks (okay, maybe we indulged in a few but we mostly hydrated with water – it's much cheaper).
Each morning in George Town we tuned into VHF channel 72 for "The Morning Net" led by Sue on s/v (sailing vessel) Wind Dancer. Sue always opens the net asking for any emergency or priority traffic (read: communication).
Is your boat taking on water and your bilge pump not working?
Did you knock your tooth out on the dinghy ride home last night after one too many rum punches?
Well, then it's your queue to answer on 72 and ask if anyone has an extra bilge pump and/or who knows when the dentist – who comes out from Nassau one day each week – will be in town next.
"Next" chirps Sue, "I'll take any business announcements or harbor events…that's business announcements or harbor events, come now."
"Chat 'n' Chill"
Sue: "Chat 'n' Chill – go ahead"
C&C: "Chat 'n' Chill would like to announce that we are having a dance tonight on the deck – DJ will start the music at six-thirty. Hope to see you at Chat 'n' Chill tonight."
"Cheetah's"
Sue: "I hear 'Cheetah's' calling – go ahead Cheetah's"
Cheetah's: Ya, today we have BBQ chicken, mac 'n' cheese, and cole slaw on the menu. Come down and see us at Cheetah's"
"This is Carefree – hi, I'm looking for someone to play scrabble with. I'll be standing by on channel 68 after the next. This is Carefree, thanks!"
Sue: "Okay – if that's it for announcements / events, we'll end with 'Buy, Sell, Trade'.
Have an extra battery on your boat you're trying to get rid of? Looking for charts of the Dominican Republic? Have a 15 horsepower dinghy engine but want to downsize to an 8 HP? Then it's your time to shine on channel 72, my friend.