06: Cruising: The Caribbean
Cascades de Limon
Before leaving the Dominican Republic, we checked out the waterfalls of Limon. To get to the waterfalls, you could spend mucho dinero and get on the large, "modern" (for the DR), air-conditioned gringo tourbus OR, roll out with the locals for 70 pesos ($1.50). We decided to blend in with the natives and used the local public transportation, called a gwua-gwua.
Gwua gwuas come in all shapes and sizes – mini vans, trucks – anything goes. All you have to do is flag down the gwua gwua and try and squeeze in.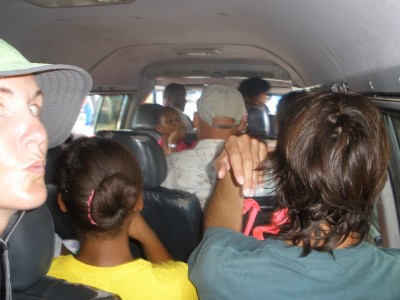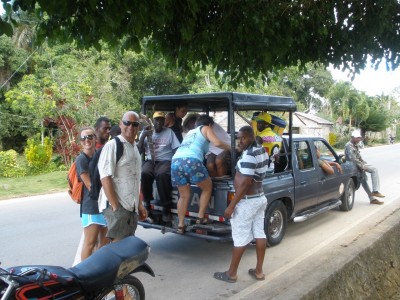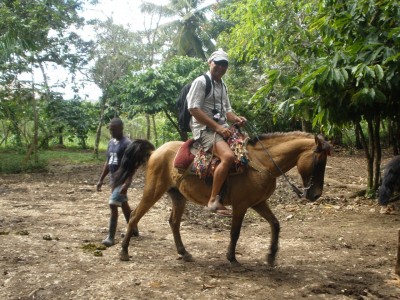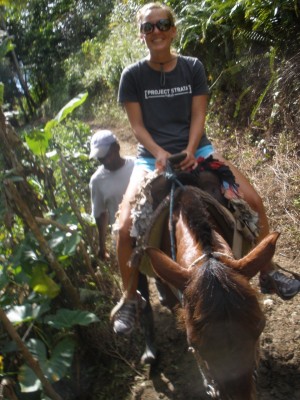 After a thirty minute ride through farmland and jungle on rocky, mud-caked trails, we hopped off our horses (and mule) and walked down a serious set of earthen steps. The steps were carved out of the wet soil and roots of the jungle and led us down to the waterfalls which were beautiful. We thought how fun it would be to climb these if only it got cold enough for them to freeze (yeah, right).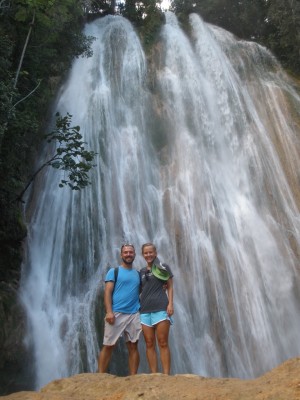 The cold river water cascades over rock, vine, and moss into a pool below. Stéphane, of course, jumped in and swum around, under, and behind the falls.